Thank you to everyone who participated and supported our #WinIphone14Pro raffle draw.
Watch as;
1-AHMED IDRIS MOHAMED ALI
2-PARAMBIN NIROTH IBRAYI AMOOTTY
3-THANSEER NADUVIL BASHEER
4-MUHAMMED ASLAM KANNAMMARI KUNI
receive their iPhone 14 Pros.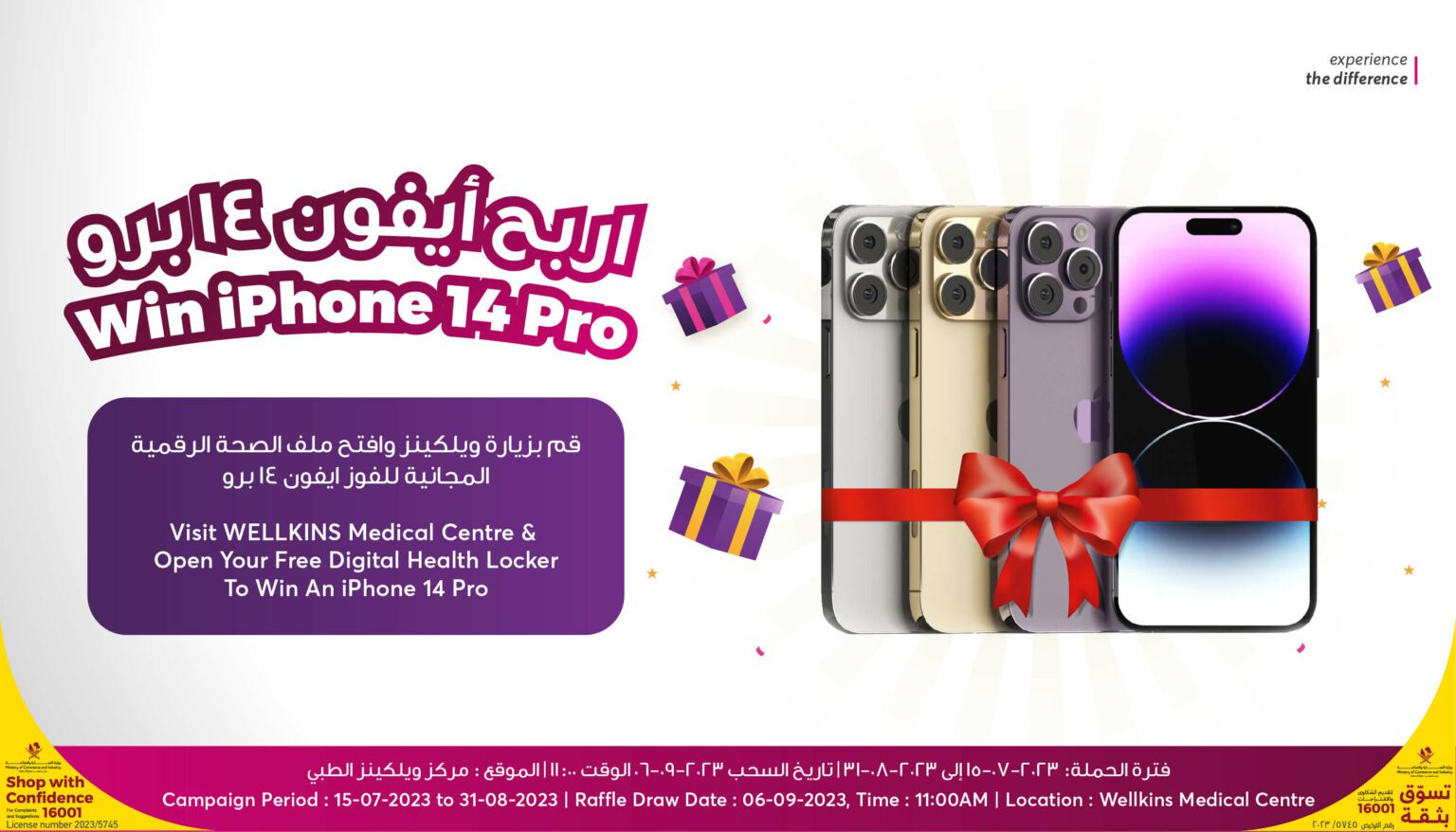 Visit WELLKINS & open your free Digital Health Locker to win an iPhone 14 Pro.
Terms & Conditions
1. Raffle coupon is issued for every new registration of digital health locker by visiting Wellkins Medical Centre.
2. The promotional period starting from 15/07/2023 to 31/08/2023.
3. All coupons should be filled and dropped in designated raffle boxes at WELLKINS Medical Centre, Opp. Westin Hotel, Ramada, Doha.
4. Winners must claim their prizes within 3 months from the date of the draw.
5. Winners must present counterfoil of the original winning coupon and an ID card for verification purpose.
6. Incomplete informations on the raffle draw will not be qualified for the draw
7. Prizes are not transferable and not redeemable for cash or exchange.
8. Existing WMC members & Employees of WELLKINS and their family members (spouse, parents, siblings and children) are not eligible to participate in the raffle draw.
Raffle Draw Date : 6-09-2023, Time : 11∶00AM, Location : Wellkins Medical Centre
Take control of your personal health records & Instant access world over with WELLKINS Digital Health Locker.
FEATURES OF DIGITAL HEALTH LOCKER
Create, Reschedule, Cancel a doctor Appointment
Reserves your parking spot during your appointment
Pull out present and past lab reports
Access all your past and present invoices
Access all prescriptions
All on your phone any time via WhatsApp
Along with is, all information related to doctors, services and Offers
All the participants are eligible for a FREE wellness package which includes:
Complete Blood Count (CBC) 14 Tests, Fasting Blood Sugar, Total Cholesterol, Creatinine, SGOT(Liver) SGPT(Liver), BMI, Physical Examination, Dental Examination & Consultation